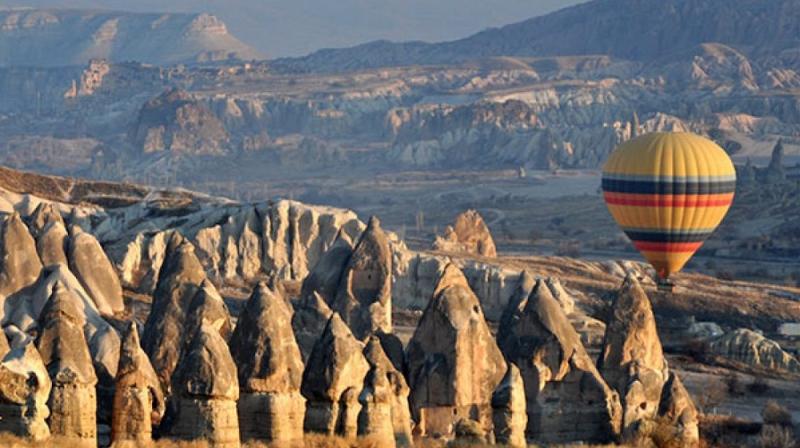 Cappadocia, which includes the towns of Nevşehir such as Ürgüp, Göreme and Uçhisar, is also among the first places to be included in the list. Another historical and worth seeing point of Cappadocia, which was included in the list in 1985, is Göreme National Park, and there are many historical and natural beauties to visit in and around Göreme.
About Cappadocia
The history of Cappadocia, which is full of mysterious sentences, the unknown is much more than the known, is actually a combination of civilizations. Exactly 60 million years ago, when Erciyes, Güllü Mountain and Hasan Mountain were active volcanoes, the foundations of Cappadocia were laid with the lava they spewed. The long labor of nature has embroidered the region with fairy chimneys like embroidery.
About Goreme National Park
Located within the borders of Nevşehir province, the National Park in this living geography is located in the Hasan Mountain-Erciyes Mountain volcanic region of Central Anatolia. Field; It consists of plateaus, plains, small mountain vegetation, high hills, high plains separated from each other by erosional steep sloped valleys. Göreme Historical National Park; The town of Ürgüp consists of Çavuşin Village, Ortahisar Town, Uçhisar Town, Zelve – Aktepe and Göreme Town settlements.

Places to Visit in Cappadocia

The best way to explore Cappadocia in detail, which has a worldwide reputation for mountain and road cycling due to its natural trails, is walking.

fairy chimneys

When it comes to places to visit in Cappadocia, the first thing that comes to mind is the Fairy Chimneys, Erciyes, Hasandağı and Güllüdağ, which emerged as a result of the weathering of the soft layer formed during the volcanic activities of 60 million years ago. Since it can be shaped easily, you can see the most beautiful of the landforms, which have been used by some of the people of the region for various needs such as shelter and storage for almost 10 thousand years, during your visit to Göreme National Park, Lovers Valley and Zelve Ruins.

Uchisar

Uçhisar is the most historical place of the Cappadocia Region with its values, which most of the travelers who come to the region are deceived and skip because they do not do enough research about it. You can visit the shops selling handmade products and famous Cappadocia wines in the bazaar of the region, which you can choose for a peaceful stay due to its quality hotels.

Goreme National Park

Covering an area of ​​9,614 hectares, Göreme National Park was taken under protection in 1986. Famous for its fairy chimneys, which are rarely seen in the world, the park, together with the Göreme Open Air Museum, reveals the historical and ethnological structure of Cappadocia.

Bonus (Salt Lake)

When we pass on the way back from Aksaray, we take a break in Şereflikoçhisar to walk on Salt Lake. In this place, where the earth and the sky seem to meet, the view will dazzle your eyes.

Gulludere Valley

Güllüdere Valley, located between Çavuşin Village and Göreme, is a pleasant walking route with 5 historical churches on 2 branches. You can visit the Yovakim-Anna Church and Direkli Church first on your trip that you started in this direction.

Ihlara Valley

We start our tour with the Ihlara Valley of Aksaray, the westernmost point of the Cappadocia Region. When you go down, it can be pleasant to rest a little on the benches by the water and watch the view of the valley. Ihlara Valley, which should be included in the list of places to visit in Cappadocia with its magnificent view and historical values, was formed by the erosion of the soft base of the Melendiz Stream.

Goreme Open Air Museum

Goreme Open Air Museum, which includes many churches built by the first Christians, is an area to be explored with its interesting structure and scenery made of volcanic tuff. This area, which started to host monastic life as of the 4th century, has become a suitable shelter for those who want to hide or retreat to religious seclusion, thanks to its distance from the main transportation routes and its rugged location.

Zelve Ruins

Only 3 kilometers from Avanos, Zelve Ruins consists of 3 valleys where fairy chimneys are quite dense compared to other regions of Cappadocia. The ruins, which is also an important climbing area for adventure lovers, was used as a settlement and religious center by Christians between the 9th and 13th centuries.

Urgup

Ürküp, the favorite holiday destination of honeymooners, is a settlement preferred by travelers for shopping. The district was called Osiana during the Byzantine period, Başhisar during the Seljuk period, and Burgut Castle by the Ottomans.

Pasabag Priests Valley

Pasabag Priests Valley, one of the ideal regions for taking pictures in Cappadocia, is located very close to Zelve, which is famous for its ruins. The valley, which contains the best examples of fairy chimneys in the form of mushrooms, can be visited easily thanks to the good walking paths passing through these formations.

 Cappadocia Caves

The Cappadocia Caves, most of which are located between the Nevşehir-Ürküp-Avanos triangle, have been used by the people of the region for thousands of years for shelter and storage purposes.

Derinkuyu Underground City

Derinkuyu Underground City, where those who escaped from the persecution of the Roman Empire during the first Christian era took shelter by coming from Antakya and Kayseri, consists of 8 floors.

Uchisar Castle

You can include Uçhisar Castle in your list of places to visit in Cappadocia to watch the uniquely beautiful view of the region from a bird's eye view and take lots of photos.

Other Places to Visit in Cappadocia

During the Cappadocia places to visit article, we talked about the most important places you should visit and see in the region. If you have enough time on your Cappadocia trip, you can add the following points to your travel list:

Güray Museum, Hacı Bektaş-ı Veli Museum, Dervent Valley, Selime Monastery, Zemi Valley, Sunset Point, Çavuşin Village, Pigeon Valley, Cappadocia Art and History Museum, Ethnography Museum, Temenni Hill, Güzelyurt Underground City, Mustafapaşa, İbrahimpaşa

Where to Stay in Cappadocia?

For accommodation in Cappadocia, you can check out Maccan Cave Hotel, Imperial Cave Hotel, Royal Stone Houses – Göreme, Sultan Cave Suites, Safran Cave Hotel and Travelers Cave Pension.

How to go to Cappadocia?

For those who are considering going to Cappadocia by air, first of all, there is no airport in the regional center. Transportation is provided from Kayseri and Nevşehir provinces to Cappadocia.

When to go to Cappadocia?

Cappadocia is located in the Central Anatolia Region, so the continental climate is dominant. Considering that the summer months are very hot in the continental climate and the winters are very cold, it can be said that the most reasonable period for Cappadocia travels is spring or autumn months.

What to eat in Cappadocia?

Cappadocia cuisine, which has thousands of years of history and has hosted different cultures throughout this past, is of course very rich. Here are the answers to the question of what to eat in Cappadocia.

Pot beans: This dish, which is made by cooking meat and dried beans in a pot and on embers, is a flavor that even those who do not like red beans will love.

Stew with chickpeas: Stew with mutton, beef and chickpeas is also cooked in a pot. The very delicious chickpea stew is one of the must-taste dishes of Cappadocia.

Wedding Soup: Thin bulgur is called "duk" in this region, and the "dugi soup" is made from this fine bulgur.

Stuffed Apricots: Stuffed apricots made from sweet apricots and meat are also cooked in pots. Although meat and apricots may sound interesting, there is no doubt that this Cappadocia dish is also very delicious.

Cappadocia activities

Apart from the balloon tour to Cappadocia, there are also enjoyable and interesting activities that you can do. Cappadocia is one of the few touristic attractions of our country, and therefore there are entertainment venues for all tastes. Turkish nights, which are held in places carved into the rocks, are among the entertainments identified with Cappadocia. At these nights, shows inspired by the Central Anatolian culture are exhibited. Of course, Cappadocia nightlife is not just about Turkish nights. There are rock bars, discos and even many places where you can enjoy live music by the fire in Cappadocia. By the way, let's not forget that you can go to wine houses in Cappadocia, which has a well-deserved reputation for its wines.